Needham 1843 Antique Remodel
Masters Touch Design Build recently completed an antique remodel on a home in Needham. The front hall and dining room in this charming 1840's home were in need of an update: the walls were covered in very old, uneven dark paneling, the floors (carpeted in the dining area and loose tile materials in the hall) were worn and out of level, the built-ins were dated and warped, and the closet and cabinet doors were fashioned from pieces of the dark wall paneling.
Starting with the existing built in storage cabinets, these tall cabinets were originally created from paneling that was dark and stained to match the original intent. The flooring in the dining area was old carpet. We rendered our idea for the updated storage cabinets showing new, white cabinetry with tapered furniture base, wainscoting, fresh plaster walls, and new hardwood flooring. The after photo depicts the newly built cabinets, installed flooring and walls with wainscoting. The wall color is almost identical to the rendering which happened by chance and was not planned at that stage.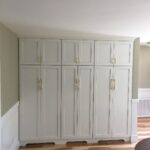 On the opposite wall to the built in storage cabinets, there was a built in hutch and closet center. The hutch and closet were cut into the paneled walls with no cohesiveness or style. The rendering for this area depicts the wall opened up with new white hutch cabinets (above and below) and shows the same tapered base used on the storage cabinets. The closet door was added to match others in the space. After photo of the same space shows the updated decision to add wall cabinets with glass inserts and the change to a granite top in lieu of the wood shown in the rendering. Despite these changes, the final outcome closely matches the rendering.
Lastly, the entry hall and closet location was updated. In the before photo, the entry hall shows an unnecessary extra door to the adjacent room and loose tile on the floor. The 3D CAD drawing depicts the extra removed, wainscoting to match the design to the entire space, new plaster, new closet door, and the hardwood flooring. The completed photo shows once again how closely this matches the rendering which gives our clients the ability to see the end result before it's built.