How to Style A Kitchen Like A Pro
The last step of a kitchen remodel is often the most overlooked one—styling your space.  By styling, I mean accessorizing the space and bringing it to life. You could have the most beautiful Carrara marble countertops and the perfect herringbone backsplash, but your kitchen will fall flat visually if you don't finish the space with some personal touches and accessories. And I get it—after a big (and often pricy) kitchen remodel, you just want to be done and get right into using the space. However, your kitchen will never feel complete unless you zhush it up a bit.  Think of it as analogous to adding jewelry to an outfit; the final details that make the difference. Here are a few guidelines on how I typically style my kitchen remodels.
Choose an Accent Color Palette:
Let's take the kitchen I just styled today for an example. Before I went shopping for my accessories, I decided on a color palette for the accents. I decided that I wanted to use a version of magenta to accent the dark cabinetry and white countertops this particular kitchen has. Once I had the colorway set, it was easier to shop for my accessories, as I let the color be the guide. I bought a magenta vase and some magenta-ish flowers. Setting this color palette doesn't mean that every single item in the kitchen needs to be magenta (I would not be getting any style points for a kitchen with a bunch of magenta plates, bowls, and vases everywhere), but I stayed away from most other colors. The key is to mix the monochromatic accent palette with plenty of neutrals (think white, wood) to not oversaturate the space with the accent color. This method works every time!
Flowers:
No matter what style of kitchen I am working with, I always include flowers or greenery. Notice I didn't say fresh flowers. While fresh flowers are ideal, there is no need to shy away from fake flowers too, as long as they are realistic and good quality. We have a vase of fake yellow tulips at the office, and clients comment on how beautiful they are all the time, without even realizing they are fake. Regardless, nothing seems to make a kitchen come to life more than something natural and vibrant. I tend to go with flowers that have some height to them to bring the eye up and soften any harsh vertical lines the cabinetry may bring.  I also like to stick with one type of flower, rather than an elaborate arrangement. This is a kitchen, not a funeral home, after all.  If you aren't a flower person, even some potted fresh herbs right by the sink would add that liveliness we're looking for—while being functional, too! Adding flowers or greenery is truly the easiest way to breathe life into your kitchen—so go get some!
Food:
Yes, believe it or not, you can style a kitchen with food.  Now don't go taking out every box of cereal and every bag of chips out of the pantry just yet.  Natural foods are the foods that look best on display.  A bowl of produce feels right at home in a well-styled kitchen. It brings another element of vibrancy and freshness, and is functional as well. Glass canisters can also be used to store oatmeal, flour, sugar, or even cookies. Breads, cakes, and pastries look great under a glass cloche or on a stand. These elements can all help create an inviting feel in the space.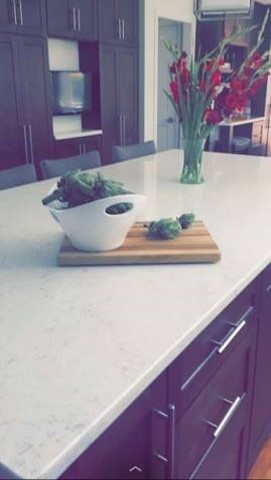 Wood Cutting Boards:
The simple fact of the matter is that one of the easiest ways to style your kitchen is by using things you will actually use on a day to day basis. A perfect example of this is the humble cutting board. A nice chunky wood cutting board on an island (possibly also near a bowl of fruit and/or a vase of flowers) adds a natural element that gives the space a bit of a "lived in" feeling. I also like to stack various styles of cutting boards at the cooking surface as another accent. Pair them with an oil cruet, a wooden pepper grinder, and a stylish salt crock and you have a beautifully styled yet fully functioning cooking area that is styled but not fussy.
Just as all great outfits need jewelry, all great kitchens need styling. It doesn't matter if your kitchen is brand new or forty years old–any kitchen can benefit from a little accessorizing. After all, a little jewelry never hurt anyone.